Tour Type
Destination Trip
Meals
Daily Breakfast
Other Meals as indicated
Hotel Category
3 Star Hotel
Request More Details
Add to wishlist
Added to wishlist
Removed from wishlist
1
Add to compare
Our Insider Experience
Wander around the streets and piazzas of Ljubljana – the Slovenian capital.
Fill the day with a trip to the Slovenian Coast with stops on the way: the UNESCO Skocjan Caves, one of the largest and most beautiful Karst caves in Europe, to the local villages and taverns for some local Prosciutto & Wine.
Spend the day exploring Bled, the magnificent  Alpine resort with a mountain lake and a tiny island in the middle, an old castle with amazing views on the surrounding Alps
DAY 1
Arrival Ljubljana, hotel check-in
Day for your own leisure. Take the time to explore Ljubljana.
DAY 2
Top Ljubljana Foods Tour (Breakfast, Lunch)
Take a walk on the tasty side of Ljubljana and wander the streets and squares with stops to grab delicious bites. Learn about the story of Ljubljana, the people, its architecture, the history of Slovenians while enjoying local dishes.The Top Ljubljana Foods tour will take you through the old Ljubljana town. During a 3-4 hour guided, slowly paced walk you will learn about the city and its most significant attractions while tasting local and national gastronomy. Top Ljubljana Foods is definitely not your usual city tour. 9 traditional dishes from various Slovenian regions accompanied by 4 sorts of wine, while learning about the historical Ljubljana center and Slovenia in general. With your tummy full and armed with the knowledge of local traditions, cuisine, and history, you will definitely know where to go next and where to eat next. "Dober tek!"
MEETING POINT: in front of the Tourist Information Center (TIC), next to the Triple Bridge
START: 16:00 Hrs
DURATION: 3,5h – 4h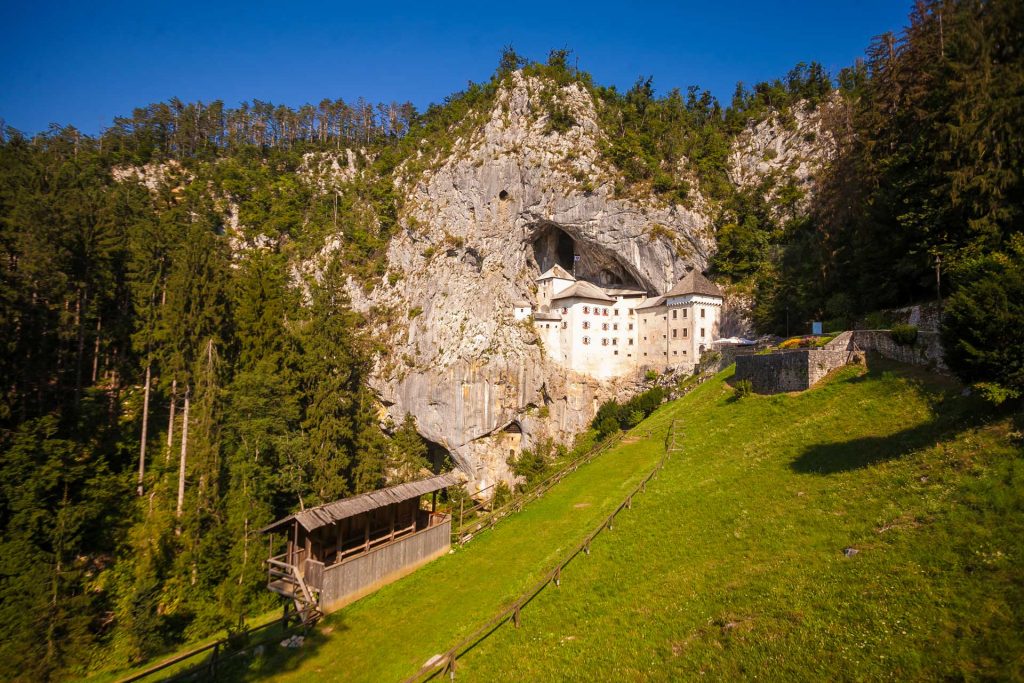 DAY 3
Postojna Cave & Predjama Castle from Ljubljana (Breakfast, Snacks)
The mystic underground of the Postojna Cave, most prominent karst cave in the world, with the Predjama Castle, listed among the Guinnes World Records as the largest cave castle.The guided tour of Postojna Cave will consist of a ride by electrical train and a walk through beautiful underground passages and chambers with spectacular drop stones, pillars, limestone curtains and other natural stone forms. Continue to the idyllic village of Predjama, where you will be amazed by our fairy tale medieval Predjama Castle, famous for its dramatic setting in the gaping mouth of a cavern halfway up a hillside. Learn about the legend of the knight Erasmus – 'Slovenian Robin Hood', and return back to Ljubljana in late afternoon hours.
SCHEDULE
13:30 Start of picking up in Ljubljana
15:00 Guided tour of Postojna cave
17:00 Guided tour of Predjama castle & Tasting of local spirits
19:00 Arrival back to Ljubljana
Please note that the order of sightseeing stops can change
DURATION: 10,5h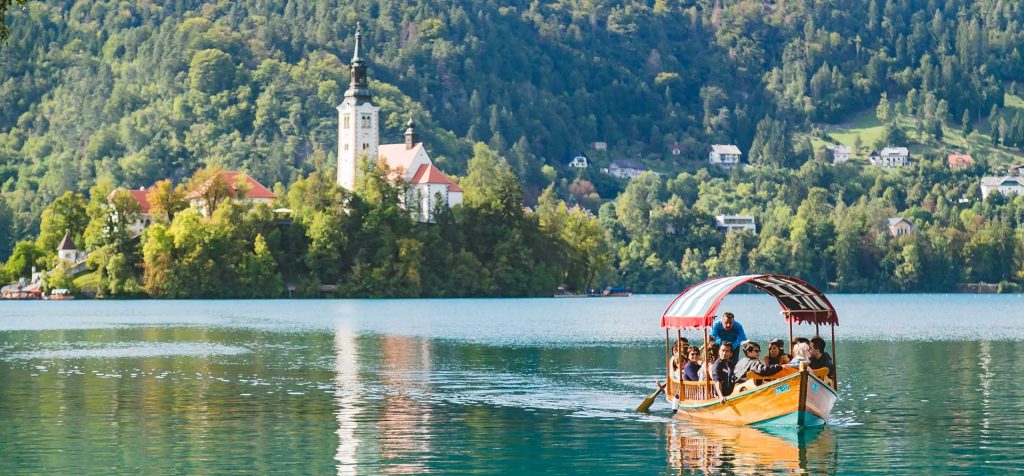 DAY 4
Bled & Bohinj Lakes with Skofja Loka (Breakfast, Lunch)
After a short drive from Ljubljana discover the famous Alpine jewels of lakes Bled & Bohinj along with the Vintgar Gorge. Sports enthusiasts can opt for rafting on the Sava river (optional). Make one last stop at a hidden gem, the medieval Skofja Loka town, before returning to Ljubljana. From Ljubljana to the Alpine region below the Julian Alps we reach Bled, the magnificent Alpine resort. Ascend the old castle perched on top of a cliff above the glacial Lake Bled. The castle's terraces offer spectacular views of the lake and its tiny island in the middle. Take a boat ride with »Pletna« – a traditional flat-bottom boat made by locals and reach the only true island in Slovenia. Continue to the impressive Vintgar Gorge, one of the most stunning natural canyons, where a path takes you across the wooden platforms and bridges along the rushing Radovna River and through the picturesque gorge. This pleasant hike ends with a 13-meter-high waterfall Sum. Our next stop is Bohinj, Slovenia's largest glacial lake, located in the Triglav National Park area. Take a swim, a canoe ride, or just a pleasant walk around the lake area to soak in Bohinj's pristine natural environment. All interested in some white water action can join a rafting experience on the fresh waters of the Sava Dolinka river! Swimming ability, swimsuit, and a towel are required, everything else is provided by our rafting partners! On the way back to Ljubljana, we stop in Skofja Loka, one of the oldest and best-preserved Slovenian towns. A walk around the charming town center, situated under the castle and the monastery. Return to Ljubljana in the late afternoon.IMPORTANT: Please note that rafting on the Sava river takes place instead of the visit of Lake Bohinj. Activity is subjected to the weather and a minimum number of applicants at the rafting operator.
SCHEDULE:
8:00 Start of picking up in Ljubljana
9:00 Time on Lake Bled and surrounding area (Vintgar gorge, Bled castle, Pletna boat)
13:30 Alpine lunch
15:30 Lake Bohinj or Sava river rafting (optional)
17:30 Skofja Loka town
18:30 Arrival back to Ljubljana
Please note that the order of sightseeing stops can change
DURATION: 10,5h
DAY 5
Free in Ljubljana, departure (Breakfast)
Free day for some last minute shopping or sightseeing before leaving beautiful Ljublana.
Best Western Premier Hotel
or similar
4 Nights in the 4-Star Best Western Hotel or similar

Daily Breakfast for 2 Persons

Top Ljubljana Foods Tour

Half- Day Postojna Cave & Predjama Castle with local spirits tasting

Full- Day Bled & Bohinj Lakes with Skofja Loka
Any Personal Expenses

Tips and Gratitudes

Any other meals than mentioned

Tourist tax (payment in the hotel)

Entrance fees in Euro and per Person payable on location: Bled Castle: 13€, Pletna boat ride: 15€, Vintgar Gorge: 10€, Skocjan Caves 16€ – 20€

White water rafting on the Sava river: 30€.
All pricing is reflected in British Pounds unless otherwise specifically denoted and is valid at time of publication but is subject to change.

All prices are per person sharing a double room. Single and Triple room rates available upon request.

'From' prices represent land only and low season twin share prices (unless otherwise clearly stated).

Unless otherwise stated, prices include all government levies and airport taxes as at the date of publication.

Dates, itineraries and prices are indicative only and subject to change by time booking.

Private Travel prices are valid for travel during low season and will vary depending on date of travel.

If "Hotel name or similar" is mentioned, then the hotel stated in the tour itinerary may change to one of a similar Standard.

Some countries charge additional destination tax which are either per Person or per Night. These taxes can vary and must be paid directly at the location or hotel.

Items listed under Booking Exclusions are NOT included in the price and must be paid directly at the location.

All Tours are escorted by English-Speaking Guides unless otherwise mentioned.

All Excursions are based on Join-In Capacity unless "Private Tour" is explicit mentioned. Private Tours are available upon request and with surcharges.

Self-Drive Tours may not always include a car rental. Please check carefully the included and excluded box. Driver must be in posseion of an valid drivers license and for some countries an international license as well as a valid credit card.

We will use our reasonable efforts to notify you of changes in prices.

For more detailed price and other booking information please visit the booking condtions page click here