Add to wishlist
Added to wishlist
Removed from wishlist
1
Add to compare
Our Insider Experience
Wander through the narrow laneways of Beijing's ancient "hutongs" where its people have lived and traditions have evolved for centuries.
Visit the Giant Panda Research & Breeding Base to learn about these endangered animals, and the conservation and breeding initiatives that have been implemented.
Marvel at the beautiful scenery along the Yangtze River whilst you relax and unwind.
Travel by high-speed train to marvel at the splendour of the World Heritage Listed Classical Chinese Gardens of Suzhou. The Humble Administrator's Garden is the largest in Suzhou and the Master of Nets Garden is one of the finest in China.
Request More Details
Itinerary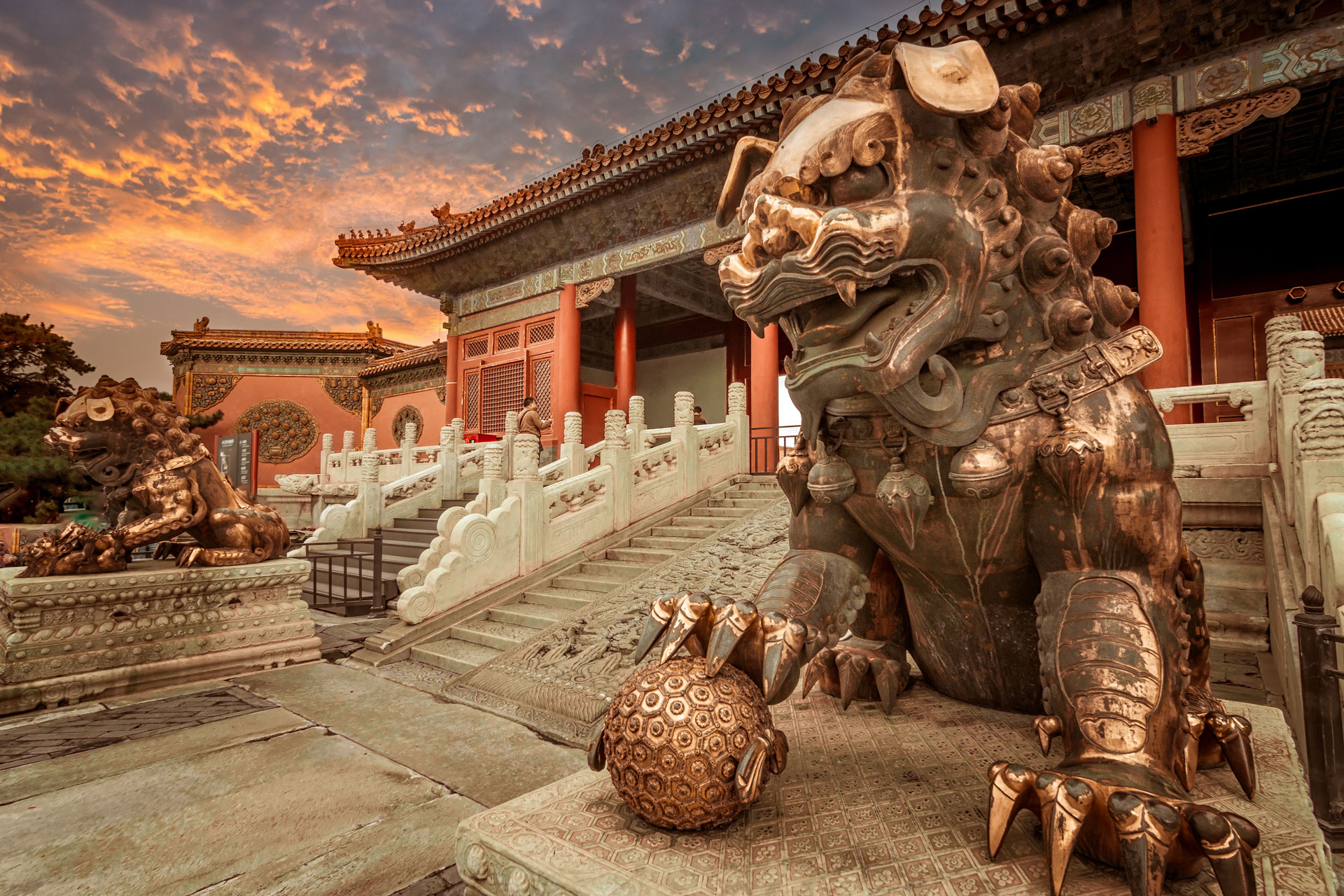 Day 1: ARRIVE BEIJING
Upon arrival in Beijing you will be met and transferred to your hotel. Tonight, meet your tour leader and the rest of the group in the reception area of your hotel for a tour briefing.
ACCOMMODATION 3 nights NOVOTEL XINQIAO (OR SIMILAR) – Run of house room
1 Chongwenmen W St
Dongcheng, China, 100005
Tel: +86 10 6513 3366

Day 2: BEIJING
Begin your exploration of this impressive capital city. Beijing, which means Northern Capital, is undoubtedly one of the great cities of the world. From one thousand years of dramatic history to a dynamic modern metropolis, Beijing offers a magnificent insight into China's (The Middle Kingdom's) past and future. Walk through Tiananmen Square which was built on the orders of Mao Zedong and is said to have the capacity to hold over a million people. From Tiananmen Square continue on foot passing through the beautiful Gate of Heavenly Peace and under the portrait of Chairman Mao to enter the splendid Forbidden City. This ancient city was the sacred heart of the empire for over 500 years and home to the Ming and Qing dynasty imperial courts. Immediately north of the Forbidden City, we head towards Jingshan Park (the Imperial Park). Covering 23 hectares (57 acres) it is an oasis of flowers and trees, and boasts breathtaking views of the Forbidden City from Coal Hill, one of the very few hills in Beijing. We also embark on a walking tour of one of Beijing's few remaining 'hutongs' or traditional lanes in the backstreets of the city, gaining a glimpse of 'old' Beijing.
In your free time this evening you may like to explore the Wangfujing night markets to see (and try!) a huge array of gastronomic wonders from around China.
Insider Experience – Taste: Try zha jiang mian for lunch, a noodle dish of pork or beef topped with soybean paste.
Breakfast and lunch included.
ACCOMMODATION NOVOTEL XINQIAO (OR SIMILAR) – Run of house room

Day 3: GREAT WALL OF CHINA
This morning travel to Mutianyu, 90 kilometres (56 miles) north-east of Beijing, to visit China's most famous attraction – the Great Wall of China. Built over 2000 years ago and extending 5000 kilometres (3,107 miles) from the Shanhaiguan Pass on the east coast to the Gobi Desert in the west. Take the cable car up to the Wall from where you can take time to walk or climb sections (as your energy allows), admiring the panoramic views and reflecting on the enormity of the material and labour required for its construction. It is estimated that a million people were used at different stages during the construction period. Ironically the wall never achieved its aim – to prevent invaders from the north. Back in town this evening, you will have a chance to feast on Beijing's famous roast duck for dinner.
Breakfast and dinner included.
ACCOMMODATION NOVOTEL XINQIAO (OR SIMILAR) – Run of house room

Day 4: BEIJING TO XIAN
This morning, drive to the north-west part of the city and visit the magnificent Summer Palace. Filled with temples, pavilions, gardens and decorated corridors, the Summer Palace was particularly favoured by the infamous Empress Dowager Cixi in the late 19th century. Wander through the extensive grounds of this vast royal garden which includes several Beijing's artistic gems: the 700-metre-Long Corridor, the graceful Seventeen Arch Bridge, and the temples and pavilions of Longevity Hill.
For lunch we have a sandwich box to eat on the high-speed train to Xian (approximately 5½ hours). Xian (which means Western Peace) is located close to the banks of the Yellow River and has a history dating back to 1000BC. The city served as the capital for China's greatest emperor, Emperor Qin Shi Huang (221 BC) (the word 'China' is derived from his name) and was also the starting point for the world's most famous trade route – the Silk Road. This afternoon visit Xian's city wall, one of the oldest, largest and best preserved of all Chinese city walls, surrounded by a deep moat. Xian's city wall was erected in the 14th century Ming Dynasty under the emperor Zhu Yuanzhang.
Breakfast and lunch included.
ACCOMMODATION 2 nights
GRAND DYNASTY CULTURE HOTEL (OR SIMILAR) – Run of house room
172 Lianhu Rd, Zhong Lou Shang Quan
Lianhu, Xi'an, Shaanxi, China, 710002
Tel: +86 29 8721 6868

Day 5: XIAN
Today enjoy a tour of this culturally diverse and very exotic Chinese city. Firstly, take a short drive east that will take you to the truly remarkable Army of Terracotta Warriors – one of the most important archaeological discoveries of the 20th century. Still under excavation, these thousands of life sized terracotta warriors and horses were only unearthed in 1974 after being buried for 2000 years. Each figure is completely unique both in facial features and expression. The terracotta army was designed to defend Emperor Qin Shi Huang's tomb and ensure that he would have a standing army to protect him in the afterlife. Many archaeologists believe that the warriors discovered so far might only be part of an even larger terracotta army still buried in vaults around the Emperor's tomb.
Following the Terracotta Warriors, visit the Xian Museum which houses the Small Wild Goose Pagoda. Built approximately 1300 years ago this beautiful pagoda is one of two important Buddhist pagodas erected in the Tang Dynasty. Furthermore, the Xian museum exhibits around 130,000 precious relics including jade articles, Buddhist statues, calligraphies and paintings. From this historic site continue onto the heart of Xian's Muslim Quarter to visit the Great Mosque. An interesting fusion of both Middle Eastern and traditional Chinese architectural styles, the Great Mosque is one of the largest in China and an important place of worship for the 30,000 strong Muslim populations living in Xian. Take some time to walk through the Muslim Quarter to enjoy the lively street markets and fascinating local foods. This evening you have an opportunity to sample Xian's famous local dumplings at a local restaurant.
Breakfast and lunch included.
ACCOMMODATION
GRAND DYNASTY CULTURE HOTEL (OR SIMILAR) – Run of house room

Day 6: XIAN TO CHENGDU
This morning we commence our journey to Chengdu, capital of Sichuan province. Sichuan is the largest province in South West China and renowned for its stunning mountain scenery, dense forests, diversity of natural and historic sites and not least – its fabulous world famous spicy cuisine! Chengdu itself is a Chinese city with a difference and despite rapid development; there are still delightful pockets of backstreet life, teahouses and riverside parks to explore. Relax on the high-speed train taking in rural vistas and local scenes for our approximate 4-hour trip.
After check-in, later in the afternoon, we visit the People's Park. Built in 1911, the park covers a total area of 112,639 square metres and integrates heritage preservation with entertainment. Soak up the atmosphere and watch local people going about their daily life.
Breakfast included.
ACCOMMODATION 2 nights
DORSETT GRAND HOTEL (OR SIMILAR) – Run of house room
168 W Yulong St, Luo Ma Shi
Qingyang, Chengdu, Sichuan, China, 610015
Tel: +86 28 8332 8666

Day 7: CHENGDU
Rise early this morning to visit the Giant Panda Research & Breeding Base, just a short drive out of Chengdu and one of the highlights of this region. The base is a fascinating place to observe Giant Pandas and to learn about these endangered animals and the conservation and breeding initiatives that have been implemented to protect them and their natural habitat. You will have a chance to see and watch a growing number of Giant Pandas as well as the lesser known Red Panda. Take time to watch the younger ones at play which is always a source of much entertainment! If you are lucky and travelling in the latter part of the year you may get a chance to see newborn pandas only a few months old who are usually kept in incubators – a unique experience and one well worth hoping for!
For lunch visit the Buddhist Wenshu Yuan Monastery for a delicious vegetarian lunch and then explore the monastery, the largest and most preserved in Chengdu. Initially built in the Tang Dynasty in 618-90, it was formally known as the Xinxiang Temple. Cultural relics are the highlight of the monastery as over 500 pieces of art and calligraphy are stored here. Afterwards, enjoy some free time to traverse the streets surrounding the monastery.
Optional Experience – Unique: Face changing (bianlian) began around 300 years ago. It is an important aspect of Sichuan Opera, where the precise techniques that are used to change masks is a closely guarded secret passed down within theatre families for generations.
Breakfast and lunch included.
ACCOMMODATION
DORSETT GRAND HOTEL (OR SIMILAR) – Run of house room

Day 8: CHENGDU TO YANGTZE CRUISE
After a leisurely start to the day, transfer to Chengdu railway station for a journey by high-speed train to Chongqing, on the banks of the mighty Yangtze River. Make our way to the river port to board the boat for your cruise through some of Yangtze River's most spectacular landscapes. Your cruise departs Chongqing at approximately 9pm this evening.
Important note: During the months of June to August increased rainfall in central China causes the water levels of the Yangtze River to rise. At times this may prevent ships from reaching their usual mooring point at the start of each cruise. In these circumstances Victoria Cruises will make arrangements for all passengers to be transferred by coach from Chongqing to an alternative embarkation point downstream. Similarly, alternative arrangements may be required for disembarkation at the end of your cruise. In such instances, Victoria Cruises will arrange for a coach transfer from the alternative disembarkation point to Yichang.
Breakfast and lunch included.
ACCOMMODATION 3 nights
5 STAR VICTORIA SABRINA – Superior cabin
Tel: +86 1361 763 7297

Day 9: YANGTZE CRUISE
Leave the industrial surrounds of Chongqing behind and pass small towns whose existence is tied to the waters of the Yangtze. We dock at picturesque and ancient Fengdu early in the morning for our first shore excursion. Travel by a bus to the Jade Emperor Scenic Area, a sacred site featuring a 100-foot- tall statue depicting the Jade Emperor, the largest in the world and an important deity in Chinese Taoism. There are also an additional 200 Taoist and Buddhist sculptures in this very beautiful area. Return to the ship before lunch. Breakfast, lunch and dinner included.
*Note: Due to variable sailing conditions, Fengdu may be substituted by a shore excursion to Shibaozhai or Wanzhou. Optional shore excursions not listed not included.
Breakfast, lunch and dinner included.
ACCOMMODATION
5 STAR VICTORIA SABRINA – Superior cabin

Day 10: YANGTZE CRUISE
Rise early today to admire the magnificent river landscapes as our boat passes through the towering cliffs and mountains of the first and second gorges, Qutang and Wu Gorge. You will then take an excursion to 'Shennv Xi' (Goddess Stream)* which flows from the southern bank of the Yangtze opposite Goddess Peak. Once just a brook, the Three Gorges Dam raised the water level to 70-100 m in depth, making it navigable by small craft on which you will travel for about 15 kilometres to view the beauty of its narrow gorges. Surrounded by beautiful peaks, many protected species live here, including monkeys, mountain goats, deer and boar; as well as varieties of Chinese medicinal herbs. Later, return to the ship and enter the third of the main gorges, Xiling Gorge.
*Note: Due to variable sailing conditions, Shennv Xi may be substituted by Daning River or Shennong Stream. Optional shore excursions not included.
Breakfast, lunch and dinner included.
ACCOMMODATION
5 STAR VICTORIA SABRINA – Superior cabin

Day 11: DISEMBARK YANGTZE CRUISE
Early this morning, the ship will pass through the new unique ship lock lift (a kind of elevator for vessels) near the Three Gorges Dam. Passengers will disembark and take a specially-designed sightseeing boat through the ship lock lift. A visit to the Three Gorges Dam Project will follow. The scale of this project is enormous and at any given time up to 30,000 people were involved in the dam's construction. By the completion of the project in 2009, 20 towns were flooded and over 1.3 million people were relocated to new villages. After the shore excursions, transfer to Yichang hotel. Later this evening, enjoy a traditional dinner at a local restaurant.
Breakfast and lunch included.
ACCOMMODATION 1 night
GEZHOUBA HOTEL (OR SIMILAR) – Run of house
China, Hubei, Yichang
Xiling, Yiling Ave, 443002
Tel: +86 717 886 6666

Day 12: YICHANG TO SHANGHAI
Transfer to the airport for flight FM9366(1040/1230) to your final destination, Shanghai. Once known as the 'Pearl of the Orient', Shanghai today has emerged again as one of Asia's most important cities. Before communists arrived in 1949, Shanghai was a city of European-style mansions and the most important trading port in Asia. Communism brought about radical reconstruction of society, silencing all western and outside influences in its path. During the height of the Cultural Revolution, Shanghai became a city of hatred and spite as families and friends turned on each other – famously recounted in Nien Chang's "Life and Death in Shanghai". These days it is a buzzing contemporary metropolis.
On arrival in Shanghai you will transfer for lunch at local restaurant. After lunch visit the business district of Pudong, once farmland now converted to a modern economic centre. We begin with a visit to the China Art Palace, home of one of the largest art museums in Asia and home to a vast collection of modern and contemporary art. Then we take a short drive to Lujiazui situated on the east bank of Huangpu River and facing the Bund. Lujiazui is the central business district of Shanghai and known for its futuristic skyscrapers. Today view three buildings from outside: Shanghai Tower, Shanghai World Financial Centre and Jinmao centre. Continue with a visit to the lovely Yu Garden – a beautiful example of traditional Chinese garden design dating back to 1559 during the Ming Dynasty.
Insider Experience – Local: Veer off the typical tourist trail and wander through the backstreets around Yu Garden. These small streets and markets are bustling with life. Laundry hangs haphazardly across footpaths and locals haggle over the best price for fruit and vegetables. Homemade noodles and fresh steaming buns are made, seafood is cooked up in street side stalls, and strange concoctions of herbs and dried ginseng sit in glass cases for sale.
Afterwards we meander along the French Concession and backstreets of Shanghai. After the skyscrapers of Pudong and Lujiazui the French Concession is remarkably low rise, where villa- lined backstreets are great for shopping, entertainment and dining. The area consists of a melange of several distinct neighbourhoods which is a cultural experience within itself.
Insider Experience – Entertainment: This evening you are off to the theatre to view the world famous Chinese acrobats in a mind-bending performance of skill and agility. This show is the best in town (and arguably, the country!) and must be seen to be believed!
Breakfast and local lunch included.
ACCOMMODATION 2 nights
PENTA HOTEL (OR SIMILAR) – Run of house
1525 Dingxi Rd, Zhong Shan Gong Yuan
Changning, Shanghai, China, 200335
Tel: +86 21 6252 1111

Day 13: SHANGHAI
Insider Experience – Unique: Head by high speed train to the charming old world town of Suzhou, often referred to as the 'Venice of the Orient'. A traditional water canal town dating back to 514 BC. Besides canals and the historical aspect of Suzhou, it is also known for its classical gardens and bridges. Today, we visit two of the most famous gardens of Suzhou, both UNESCO world heritage listed sites. Firstly, we visit The Master of the Nets Garden, among the finest of all Chinese gardens. The garden demonstrates Chinese garden designers' adept skills for synthesizing art, nature and architecture to create unique metaphysical masterpieces. Next, we venture to The Humble Administrator's Garden, built during the Ming dynasty in the early 16th century and covering approximately 52,000 square metres. The Humble Administrators Garden is celebrated by its exquisite layout of pools, rockeries, islets, bamboo grove, pines, pavilions and corridors. It is often hailed as the 'mother of Chinese gardens'. Finally, we visit the Suzhou Museum. A museum said to have more than 15,000 ancient Chinese paintings, Calligraphy, ceramics, crafts, unearthed relics and revolution relics.
Insider Experience – Taste: Join your group this evening for a farewell dinner at one of Shanghai's fine local restaurants to celebrate the end of a fascinating journey through China, it's culture and people.
Breakfast, lunch and dinner included
ACCOMMODATION
PENTA HOTEL (OR SIMILAR) – Run of house

Day 14: DEPART SHANGHAI
Today your tour ends with a transfer to the airport for your onward travel.
Breakfast included
What's included
10 nights hotel accommodation
Breakfast daily
3 nights cruise accommodation
9 lunches
4 dinners
Transport in air-conditioned vehicles
Small group touring
Entrance fees
English speaking tour leader
Tipping and arrival and departure transfers.
Excluded
Meals other than those specified
Visa fees
Porters
Insurance and personal expenses such as laundry, mini-bar, telephone and drinks.
Departures
| Departure | Return | Price From | Offer | Guaranteed Departure | Book Now |
| --- | --- | --- | --- | --- | --- |
| March 22th | April 5th | $5000 | | | Enquire Now |
Request More Details
Specification:
Three Gorges Discovery
| | |
| --- | --- |
| Duration | 14 Days |
| Group Size | 16 (Maximum) |
| Tour Type | Small Group |
| Trip Grading | Moderate |