Island Escape by Burasari
Designed to the highest standards of comfort, elegance and pampering convenience for a holiday filled with romance, carefree fun and soul-soothing relaxation. Minimalist décor rendered in soothing earth-tones that meld gracefully with the luxuriant tropical surrounds and breath-taking views.
An aqua world paradise with water slide and floating sun decks. Glorious stretched swimming pool with landscaped "sundeck islands" right in the centre of rooms and villas, Aqua World is ideal for water lovers and sun worshippers. A mix of One to Two-bedroom Villas and Deluxe Rooms offer direct access into the pool or spacious balconies overlooking aquaworld. Pool areas feature ample sun loungers and a water slide.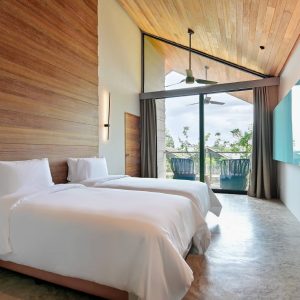 About the Rooms
Beautifully designed with nature-inspired décor elements, large rain showers and wide-open balcony. Choice of spectacular garden- or lagoon view on ground floor for direct access or on the second floor for the complete tropical resort experience. Connecting rooms are available upon request for mingling and socialising during the day and amore secluded space at night, perfect for families or friends travel.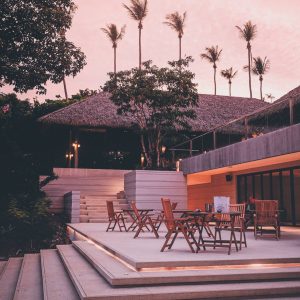 About Dining
Fabulous food and inspired dining ambience area part of the uncommonly unique holiday experience. A meticulously curated line-up of tantalizing Thai and international cuisine, ocean-fresh seafood and light-fare by talented culinary team.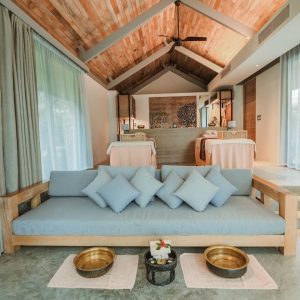 About Facilities and Recreation
Soak up award-winning expertise in the luxurious spa, a sanctuary inspired by cultural traditions, jungle beauty and sea views. There is also a fitness centre and a choice of water or land sports to choose from. The hotel can help to arrange private boat transfers from Samui airport. Public ferry transfers are also available from Tong Sala Pier.
Please note that this is not a live online booking engine. By submitting your booking inquiry, does not confirm the  booking yet. Our reservation will get back to you with a confirmation and prices. Once you have received our proposal, you have the opportunity to review it before finalising the booking with us.