Destination Overview VIETNAM…

Vietnam, has finally won its last battle, to capture the imagination of the travelling public. Elegant Hanoi now vies with its dynamic sister, Ho Chi Minh City (Saigon) for the attention of visitors drawn by the eclectic mix of old and new. More modern than other Vietnamese cities, Ho Chi Minh City has also retained its French colonial influences. Its vibrancy is maintained by the ever-entrepreneurial Saigonese and the streets are jam-packed with mopeds and scooters, often carrying whole families. The markets are chaotically busy.

Elsewhere, the scenes are timeless. Early morning on the Mekong Delta brings the daily floating markets where fruit and vegetables are peddled. Everywhere the green patchwork of rice paddies stretches into the distance, broken only by the silhouette of water buffalo and farm workers wearing conical hats bending down to tend the young plants. The soaring mountains in the north of the country tower over tiny villages where life continues much as it has done for centuries, with traditional costumes still proudly worn.
The old French hill stations have survived throughout the country offering a welcomed respite from the heat. And, in the South China Sea, the 3000 chalk islands in Ha Long Bay are not to be missed. The ancient former imperial capital, Hue, takes you back to a time of concubines and eunuchs. The conquest of Vietnam by France began in 1858 and was completed by 1884. It became part of French Indochina in 1887. Vietnam declared independence after World War II, but France continued to rule until its 1954 defeat by Communist forces under Ho Chi Minh.


Under the Geneva Accords of 1954, Vietnam was divided into the Communist North and Anti-Communist South. US economic and military aid to South Vietnam grew through the 1960's in an attempt to bolster the government, but US armed forces were withdrawn following a cease-fire agreement in 1973. Two years later, North Vietnamese forces overran the South reuniting the country under the Communist rule. Since the enactment of Vietnam's "doi moi"  policy in 1986, Vietnamese authorities have committed to increased economic liberalization and enacted structural reforms needed to modernize the economy which have resulted in rapid economic growth in the last decade.

Sapa – Located 1,500 metres above sea level in Vietnam's remote northwest mountains, Sapa is famous for its rugged scenery, luscious rice fields and rich cultural diversity. Close to China, this picturesque town is home to many ethnic minority hill tribes, who can be seen around the town in their colourful, traditional costumes.

Hanoi – the capital city of Vietnam and one of the most beautiful cities in all of Asia. Hanoi is full of history; a maze of winding, narrow, wooded lanes full of shops, taverns, bicycles, cyclos and motorbikes. The city centre is an architectural museum piece, its blocks of ochre buildings retaining the air of a peaceful and austere provincial town.

Halong Bay – This UNESCO World Heritage Site is considered by many to be one of the Natural Wonders of the World, and for good reason. Over 2,000 magnificent limestone karsts rise from the clear, emerald waters of the Gulf of Tonkin, making for a truly picturesque scene.

Ninh Binh– A short journey south of Hanoi brings you to the "Dry Halong Bay" known for its limestone hills and meandering river that takes you through three caves before unveiling a secluded valley. Your boatsmen are locals who often employ their feet for rowing. As you make your way through the waterway on a sampan, keen an eye out for plunging Kingfishers.

Danang – Vietnam's third largest city, and largest major port city, Danang is an ideal base to explore the nearby Old Town of Hoi An, or historic former royal capital of Hue. Located directly on the coast, Danang boasts some of Vietnam's most beautiful beaches and beach-side hotel resorts.

Hoi An – This quaint riverside town was once the principal port of the Cham Kingdom. Beautiful, steeped in history and culture, this UNESCO World Heritage Town is very popular with visitors to Vietnam, and for good reason. Hoi An has retained a distinct Chinese atmosphere with low, tile-roofed houses and narrow streets.

Hue – Situated directly on the atmospheric Perfume River, Hue is without doubt one of Vietnam's most historic cities. This former Royal Capital is full of temples, pagodas, palaces, tombs and culture. Hue became Vietnam's first World Cultural Heritage site recognised by UNESCO in 1993.

Ho Chi Minh City – Vietnam's largest and most up-and-coming city, buzzing with activity 24 hours per day! French colonial buildings and historic landmarks  are highlights of this rapidly developing city. The city is full of restaurants and bars ranging from simple pavement stalls where you can buy a bowl of noodles for a few cents to sophisticated restaurants serving fine European cuisine.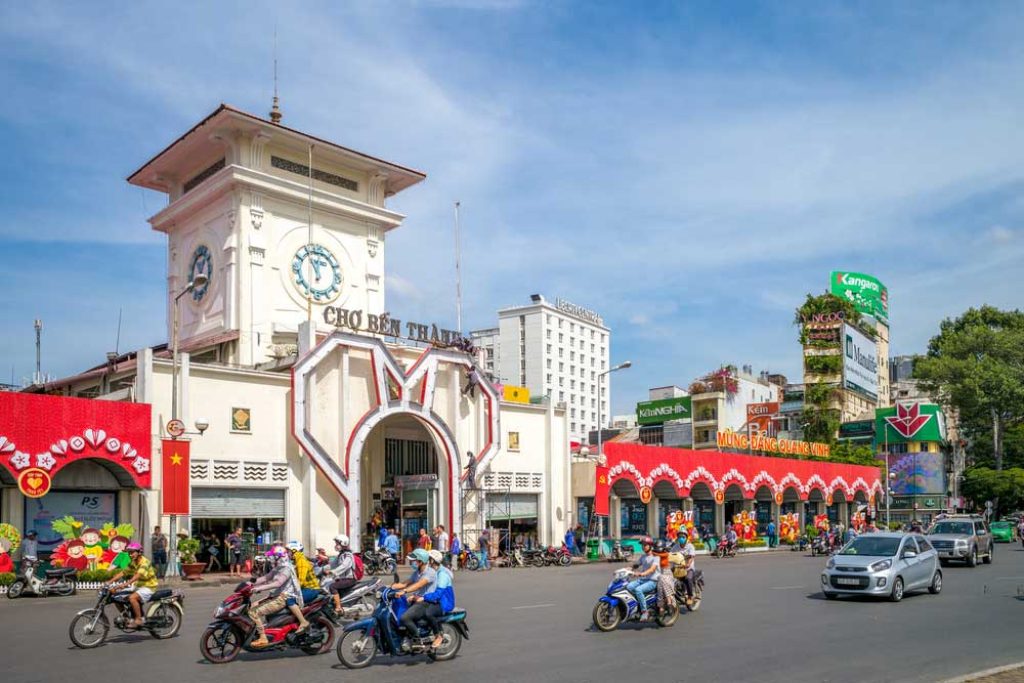 Phu Quoc – Surely the most beautiful island in Vietnam, Phu Quoc is surrounded by picture-perfect white sand beaches and with dense, impenetrable jungle in the centre.You can enjoy both sun and steam baths, then climb to caves or take tours to forests where you can enjoy the nature and wildlife.

Mekong Delta – Floating villages, green fields and sleepy villages make up this region. Though the pace of life here is laidback, the region is full of life with luscious rice paddies and fish farms being cultivated by the river, as well as sugar cane, fruit, and shrimp. It offers travellers to experience rural Vietnam and a way of life little changed over centuries.

Vietnam Small Group Journeys