A spellbinding island retreat that melts your worries away. Escape to this International five-star resort, Meliá Koh Samui, an idyllic beachfront retreat that harmoniously blends rich Southern Thai maritime flair with luxurious rooms and exceptional facilities, located on the pristine and tranquil Choeng Mon Beach overlooking the Gulf of Thailand.
Immerse yourself in one-of-a-kind tropical luxury at The Level Boat Suites, nestled in the lush, beautiful gardens by the sparkling pools. Treat your body and mind to a pampering spa treatment, indulge in scrumptious dishes and enjoy fun family activities, or simply unwind and recharge your batteries in a stylish cabana by the pool or lounge around on the powdery sandy beach overlooking the glistening Gulf of Thailand. Whether you're on a fun family vacation, a romantic beach getaway or looking for an exceptional venue for a special event, Meliá Koh Samui has it all.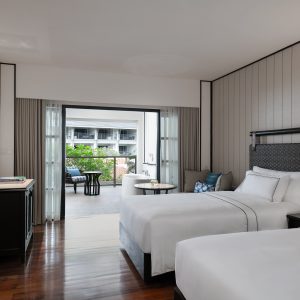 About the Rooms
Hide away in luxurious comfort and style at Meliá Koh Samui. This beachside resort with lush, tropical vegetation and ample facilities offers well-appointed, fully equipped rooms and suites in various styles, blending unique maritime charm, modern comfort and warm hospitality for your enjoyment – the perfect destination for family vacations and romantic getaways.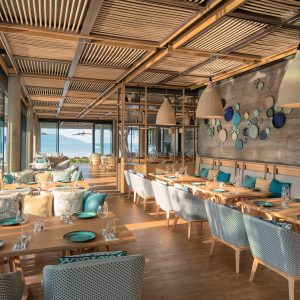 About Dining
he Meliá Koh Samui offers a wide range of local and international cuisine and lush bars which create a contemporary ambience. Boat's Bar restaurant provides all-day dining, KoKo Kitchen for breakfast, live cooking and international cuisine, The Breeza Beach Restaurant & Bar combining Mediterranean flair and local seafood, and the Pool Bar serving fusion tapas.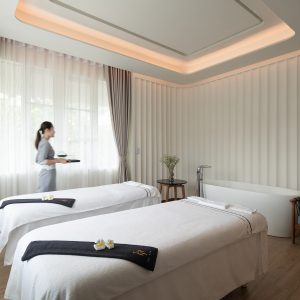 About Facilities and Recreation
Enrich your tropical beach getaway with the array of activities Meliá Koh Samui has to offer. From oriental inspired pampering at YHI Spa, a choice of inviting pools, all-day fun for the kids to an invigorating workout at the fitness centre, your stay will be comfortable and fulfilling, with a subtle echo of the exotic seafaring traditions of Koh Samui.
Please note that this is not a live online booking engine. By submitting your booking inquiry, does not confirm the  booking yet. Our reservation will get back to you with a confirmation and prices. Once you have received our proposal, you have the opportunity to review it before finalising the booking with us.