Sheraton Hua Hin Resort & Spa
Carved within the beach crescent of the Gulf of Siam, Sheraton Hua Hin Resort transforms an ordinary Cha-Am vacation into an extraordinary one. This five-star resort us located near some top Hua Hian attractions.
Remarkable seascapes meet 5-star service at Sheraton Hua Hin Resort & Spa in Thailand. Take in the tropical landscapes and panoramic ocean views from the hotel patios, plazas and beachfront. With a fitness centre, a kids club and a Shine Spa, this 5-star resort caters to all. After lounging on the beach, relax in your hotel room or suite, designed with contemporary, Thai-inspired décor. Some rooms feature views of the ocean, the tropical gardens or the lagoon pool. Dine in one of the hotel's five restaurants, serving everything from authentic pan-Asian fare to homestyle Italian.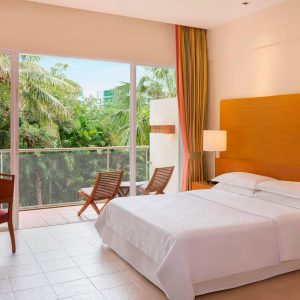 About the Rooms
The 240 rooms and suites at our Cha-Am beach hotel are designed to ensure maximum comfort in Hua Hin, Thailand. All the luxury accommodations feature the Sheraton Signature Bed, a private balcony or terrace, a bathroom with separate shower and bathtub, ample hotel amenities and sustainability features for your vacation or conference in Cha-Am.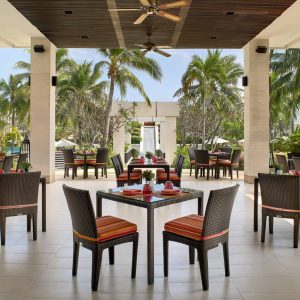 About Dining
Five restaurants and bars at Sheraton Hua Hin Resort & Spa let you savour a wide array of delights, from pan-Asian cuisine to international delicacies, great cocktails, fine wines and beverages, inside and outdoors. Sheraton Hua Hin Resort & Spa is believed to be home to some of the best restaurants in town, offering international cuisine and innovative menus.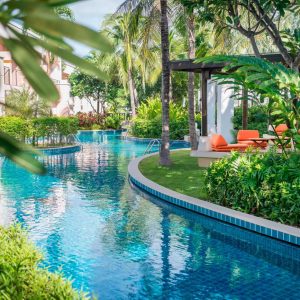 About Facilities and Recreation
Relax beside the vast 4,600 square meter lagoon-style pool, spark your children's imagination with activities at StarClub and indulge your senses at Shine Spa while staff are on hand to ensure the finest service. There is also a fully equipped fitness centre. The hotel is located 2.5 hours' drive south of Bangkok and just 20 minutes from Cha-Am..
Please note that this is not a live online booking engine. By submitting your booking inquiry, does not confirm the  booking yet. Our reservation will get back to you with a confirmation and prices. Once you have received our proposal, you have the opportunity to review it before finalising the booking with us.