If you're a nature lover looking to relax at an affordable resort within a convenient location, The Leaf on The Sands is the perfect place for you! On a flatland embraced by hundreds of tropical trees and plant species, this resort is suitable for travellers of all ages.
Enjoy the sounds of exotic birdsongs while cooling off in the sparkling pool as you soak up the sun. Relax all day with an ice-cold drink at hand; enjoy a nature walk to the beach — what holiday can be better? A 5-minute drive from Nang Thong Beach, The Leaf on The Sands by Katathani offers clean and comfortable accommodation with free Wi-Fi. The hotel is equipped with a pool, fitness centres and 24-hour front desk. Free private parking is possible on site. The property is 37.9 miles from Phuket International Airport.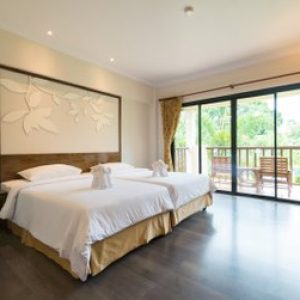 About the Rooms
Superior Rooms are cosy and located in a low-rise building surrounded by natural views of the tropical sanctuary. All rooms are pool-view or facing lush green gardens. Deluxe Rooms are spacious, and Chalet Rooms are set amidst beautiful gardens. Villas brings you close to nature and the large private terrace is surrounded by a variety of tropical plants.

About Dining
Rice Barn is the on-site restaurant at The Leaf on the Sands. This open-air, highceiling venue serves mouth-watering Thai Cuisine in an exotic country setting. Pool Bar is a swim-up bar where you can sip a cocktail while keeping cool in the pool at the same time. Room service can be arranged upon request.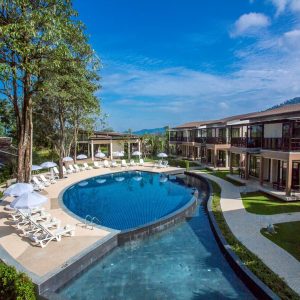 About Facilities and Recreation
Leaf Pool is a stunning pool designed in the shape of a leaf. A fun place set amidst a green oasis this outdoor swimming pool is our guests' delight. There is also a Fitness Centre built as a complete recreation complex for working out. You can also choose from a variety of body treatments or a relaxing outdoor massage.
Please note that this is not a live online booking engine. By submitting your booking inquiry, does not confirm the  booking yet. Our reservation will get back to you with a confirmation and prices. Once you have received our proposal, you have the opportunity to review it before finalising the booking with us.