This luxury hotel in the heart of the Bangkok financial district will astound you with its sense of tranquillity. Named in honour of the ancient capital of Thailand, the hotel is surrounded by luxurious gardens and lotus ponds that pay homage to Thailand's old-world elegance.
With award-winning fine-dining restaurants, exquisite spa facilities, a state- of-the-art fitness centre, expansive swimming pool and an exemplary level of charming and efficient service, the Sukhothai is the perfect retreat from the hustle and bustle of the modern world. The immaculate grounds and interiors of the Sukhothai Bangkok are designed to offer a modern, contemporary look while still incorporating the magnificent textures, colours, and scents for which Thailand is famous. From polished teak, rich silk, aged stonework, and the vivid and lush gardens, you are surrounded by accents of ancient Thailand.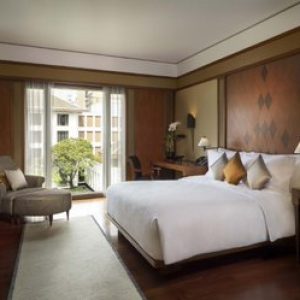 About the Rooms
Guest rooms offer every modern luxury that can be imagined. Nespresso machines, large flat-screen highdefinition TVs, a Harmon-Kardon audio system and Bottega Veneta luxury bath amenities are just some of the delights that await you. The Main Wing and Sukhothai Club Wing together offer ten varieties of contemporary guest rooms and suites.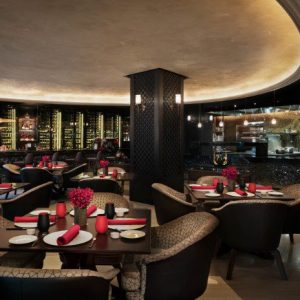 About Dining
With seven bars and dining establishments to choose from, the Sukhothai Bangkok offers a range of exquisite dining rooms and cuisines from around the world. Each of the bars and restaurants offers a different ambience to accompany the fine food and drinks on offer. Enjoy discovering everything that the Sukhothai Bangkok has to offer for the true gastronome.

About Facilities and Recreation
From the Spa Botanica to the 25-metre, infinity-edged swimming pool amid the lush grounds and the spacious Fitness Studio, The Sukhothai Bangkok goes to every length to allow you to maintain your health and wellness in splendid luxury. The hotel is a short drive from Bangkok's financial district, the Chao Phraya River and shopping venues.
Please note that this is not a live online booking engine. By submitting your booking inquiry, does not confirm the  booking yet. Our reservation will get back to you with a confirmation and prices. Once you have received our proposal, you have the opportunity to review it before finalising the booking with us.