Private Journeys
Showing all 3 results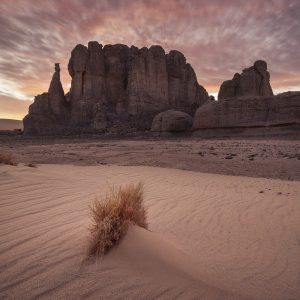 Embark on an exhilarating 8-day desert adventure, beginning with your arrival in Algiers and a direct flight to Djanet. From there, you'll explore the wonders of the Sahara in a 4x4, with highlights including walks through Erg Admer's endless dunes, visits to enchanting canyons and ancient rock gravures, and encounters with the unique Zeriba houses. Journey to the colorful dunes of Tisras, ascend the famous Tassili N'Ajjer plateau, and immerse yourself in the local culture in Djanet, complete with a soothing Moorish spa experience. Your unforgettable desert expedition concludes with a visit to the Djanet souk for last-minute treasures before your return journey via Algiers.

Rwanda, often hailed as the "Land of a Thousand Hills," is a nation blessed with abundant natural beauty. Within its borders lies a sanctuary for the endangered Chimpanzee. In this meticulously crafted itinerary, we invite you to embark on a captivating journey. You'll engage in exhilarating chimpanzee tracking, thrilling game drives, and tranquil boat cruises through the savannah park. Additionally, immerse yourself in the rich tapestry of Rwanda's cultural and community heritage, where you'll gain profound insights into the diverse cultures and historical ways of life that define its people.

Discover the best of Uganda's natural wonders and wildlife in a journey that encompasses the extraordinary. Witness the endangered mountain gorillas up close, hike through lush rainforests to track chimpanzees, and embark on classic safari adventures that bring you face to face with the Big 4 wildlife. It's an unforgettable expedition through the heart of Uganda's incredible biodiversity.