Le Meridien Phuket Beach Resort
The Resort is located on a lush cove on a secluded, pristine beach, unlike most resorts on Phuket. Guests enjoy a bit more privacy free from usual tourist distractions on other beaches on Phuket. It offers a wealth of fitness options, a day spa and 10 dining and bar options.
On a secluded cove against a canvas of sand and sea in Thailand, Le Méridien Phuket Beach Resort offers bold new discoveries with top-rated facilities for land and water adventures, a rejuvenating spa, inspired cuisine and forward-thinking services that exceed guests' desires. The resort's 416 rooms and 54 luxury suites blend the creative and the elemental with authentic Thai accents against a soothing tropical setting.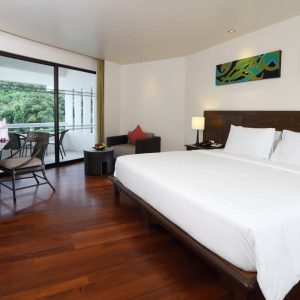 About the Rooms
Deluxe Rooms feature modern décor and distinctive, stylish bathrooms. Measuring 37 square metres, these rooms offer a divine contemporary retreat with a smooth, clean palette of colours and timeless textures as well as refreshing hardwood floors throughout. Each room includes a private balcony with views of lush tropical greenery.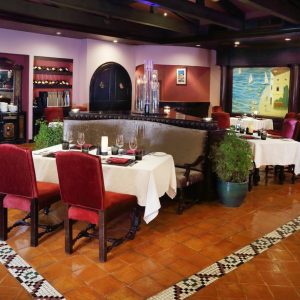 About Dining
Le Méridien Phuket Beach Resort presents 10 on-site restaurants and bars on Phuket Beach. Share a date night on the island at the Italian restaurant Portofino, or try a specialty sushi roll at Japanese restaurant Ariake. During the day, enjoy wood-fired pizza and BBQ by the pool at the family-friendly eateries. It is offered themed buffet dinners at Pakarang and hand-crafted drinks, foosball and billiards at Le Patong Pub.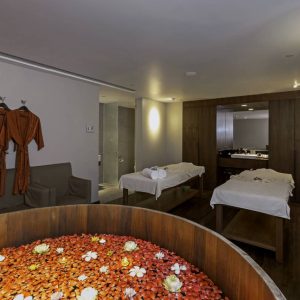 About Facilities and Recreation
Endless hours of limitless relaxation are in store at our two oversized swimming pools. Sumptuous spa treatments and massage services are performed by our highly trained staff in private, stylish teakwood rooms surrounded by natural foliage. Located in the resort's lush tropical gardens and overlooking the sea, the nine-hole mini-golf course is perfect for families desiring a fun game of golf but not wishing to leave the resort. Le Fitness offers a new perspective on the way you work out.
Please note that this is not a live online booking engine. By submitting your booking inquiry, does not confirm the  booking yet. Our reservation will get back to you with a confirmation and prices. Once you have received our proposal, you have the opportunity to review it before finalising the booking with us.